By Jueseppi B.
Breanna Collins was one of 14 girls who built a video game at the Black Girls Code session last fall.
By Kiratiana Freelon (Contributor, Loop 21)
If black girls can rock and black girls can travel then they can surely code, right? The statistics show otherwise. Women of color represent less than 3% of the people in technology fields.
But if it's up to Kimberly Bryant, pretty soon tons of black (and brown) girls will be coding, which is the art of creating computer programs. She is the founder of Black Girls Code, a Bay Area organization whose mission is to increase the young women of color in the field of digital and computer technology.
Since launching in October, Black Girls Code is now teaching twelve young women how to code in scratch and there are immediate plans to expand the program.
Loop 21: Tell me about yourself! What is your background in coding? How did you end up in Silicon Valley?
Kimberly Bryant: I'm originally from Memphis, Tennessee and I am a career Electrical Engineer and Biotech/Pharma professional. My college minors were CS and Math but I took a more traditional engineering route out of college and spent the majority of my career in large industrial environments. A career move in biotech landed me in the valley where I slowly transitioned into the IT side of the business. I have been in the bay area for five and a half years since moving from the East.
Loop 21: How did you become interested in coding and engineering?
Kimberly Bryant: I personally became interested in engineering as a high school student with the encouragement of my guidance counselors given my strong performance in math and science and the demand for students in the engineering field. I really had no direct knowledge of what an engineer "did" or if I really wanted to pursue engineering as a career. I eventually studied electrical engineering at Vanderbilt University. It was difficult but I just determined to make it through my studies. We also had a pretty strong support network within the school, so that helped.
I think that is the key to getting more kids of color interested in science, technology, engineering, and mathematics (STEM) by providing them with exposure to the many career choices STEM allows.
Loop 21: Why don't more minority students study stem more? Is it a cultural thing? Do we not have the resources in our schools?
Kimberly Bryant: I think more minority students neglect to pursue a career in STEM fields because of lack of exposure. They don't generally see these fields as a career option and thus they don't pursue a technical career path. This is why it is important to have more black tech founders and women tech founders in positions of influence so that minority students can find a role model with which they can identify. They have to see that this path is accessible to them in order to achieve it. Unfortunately there are not adequate resources solely through our school systems to accommodate this need.
Loop 21: Why did you create Black Girls Code and how did you start it?
Kimberly Bryant: The genesis of Black Girls Code was formed after I discovered in doing lots of networking in the valley that I was often one of a few women in the room and sometimes the only person of color at various tech networking events. I was doing a lot of networking to launch my own mobile health company. In the process is when I started to have conversations about the lack of females and minorities in tech.
As an engineer myself, I realized that the key to getting girls in general and especially girls of color interested in STEM (Science Technology Engineering Mathematics) fields starts long before they reach high school or college. It is key to catch girls at that critical age in middle or elementary school when being a "geek" is no longer cool. Now Black Girls Code is my side passion project but I spend as much time on it as my job.
Loop 21: How did you come up with the name Black Girls Code?
Kimberly Bryant: Well I actually chose the name Black Girls Code to reflect the issue of focus for my organization which is specifically focused on helping "girls of color" to learn programming and technology. Our core target market are girls of color (African American, Latino, Native American). It is this demographic that is less than 1%-3% represented in technology and STEM fields. I wanted the "name" of my organization to reflect that and to be sure it was understood that this is our focus.
Actually there are MANY organizations which focus on girls, women, technology. And unfortunately MOST of them are very lacking in attracting girls or women of color to their programs. It is overwhelmingly white, Asian, and affluent. Our girls are being taught to have pride in who they are and in this case it starts with acknowledging and showing pride in this identity which is reflected in our name, our logo, the mentors, etc that we infuse into our program. This will never change.
When I was first introduced to computer programming, as a freshman in Electrical Engineering, Fortran and Pascal were the popular languages for newbies in computing and the Apple Macintosh was the new kid on the block. I remember being excited by the prospects, and looked forward to embarking on a rich and rewarding career after college.
But I also recall, as I pursued my studies, feeling culturally isolated: few of my classmates looked like me. While we shared similar aspirations and many good times, there's much to be said for making any challenging journey with people of the same cultural background.
Much has changed since my college days, but there's still a dearth of African-American women in science, technology, engineering and math professions, an absence that cannot be explained by, say, a lack of interest in these fields. Lack of access and lack of exposure to STEM topics are the likelier culprits.
By launching Black Girls Code, I hope to provide  young and pre-teen girls of color opportunities to learn in-demand skills to  at a time when they are naturally thinking about what they want to be when they grow up.
That, really, is the Black Girls Code mission:  to introduce programming and technology to a new generation of coders, coders who will become builders of technological innovation and of their own futures.
Imagine the impact that these curious, creative minds could have on the world with the guidance and encouragement others take for granted.
I have, and I can't wait!
Kimberly Bryant, founder of Black Girls Code
(CNN) - Kimberly Bryant knows what it is to yearn and to succeed. The electrical engineer and mobile health technology entrepreneur works for pharmaceutical giant Novartis and is in the midst of launching her own company.
But she also knows what it's like to be "the only one" – the only woman, the only African-American.
That's why Bryant started Black Girls Code, a volunteer organization in San Francisco that's dedicated to teaching young girls of color about computer programming and technology. She hopes they will be better prepared to experience that yearning and success instead of loneliness and isolation. By giving them an early intro into the world of computing, she hopes they'll see it as a potential career path.
"I want to have that exposure before they go to college so that they can have [computer science professions] as a choice when they go to college," Bryant said.
Bryant founded Black Girls Code in April and finished its first program this month. Fourteen girls from ages 6 to 13 spent six weeks learning about the basics of programming at the facilities of the 100% College Preparatory Institute in San Francisco. They also took trips to leading tech companies, including Facebook and Google. The girls used a computer language called Scratch to make a simple game, and to create graphics that illustrated each girl's name and personality.
It's a bit more kid friendly than a typical day at school.
"I really enjoyed being able to win candy AND learn to code," Kai Morton, 12, wrote in a blog post  about theKidsRuby code class. "I got so much candy that after a while the teacher asked somebody else to answer a question!"
In another blog post, 7-year-old Nailah Reynolds wrote, "The one thing I liked the least about my KidsRuby class was all that typing! What I liked the most was that I could learn to hack my homework!"
There has been so much interest in the program recently that Bryant changed her original plans to start the next session in March. Now, she's gearing up for a session aimed at younger girls for January, followed by one for the older girls in March. And she's keen to open branches of the program in other areas, including Atlanta, the East Coast and the Midwest.
Bryant said the name of her organization was chosen to emphasize its focus on girls of underrepresented minorities – particularly African-Americans, Latinas and Native Americans – and to distinguish it from other programs that tend to draw more white and Asian participants.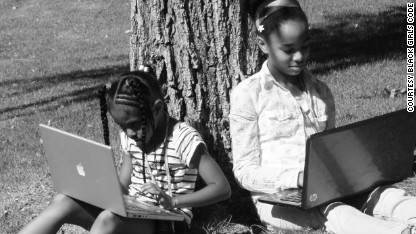 Black Girls Code participants Nailah Reynolds, 7, left, and Kai Morton, 12.
According to data collected by the National Center for Women in Technology, only 25% of computing-related jobs in 2009 were held by women. Only 2% of those women were African-American. Four percent were Asian, and just 1% were Latina.
Why is that a problem?
"One of the things that's true about the computing talent pipeline in this country is that it's really in jeopardy," said Lucy Sanders, CEO of the National Center for Women in Technology. "With the degrees we're granting now, we're only going to graduate enough people to fill a third of the jobs … We're not going to fill this talent pipeline if we only go to the places where we've always been traditionally looking."
Baratunde Thurston: 'Letter from a poor black kid'
The field needs diverse voices to serve an increasingly diverse population, Sanders said.
"Computing is a creative endeavor, and when you have a diverse set of voices at the design table, you're going to have people creating technology in different ways than if it was a homogeneous group," Sanders said.
Lack of access to technology and computer science classes in schools and a lack of role models and mentors are among the barriers that make it difficult for women and people of color to enter – and stay in– computer and technology fields, according to the 2009 Anita Borg Institute for Women in Technology report,"Obstacles and Solutions for Underrepresented Minorities in Technology." The report said educators might overtly or subconsciously steer them away from the sciences as a career, and some experience feelings of isolation and exclusion caused by being the only woman, minority, or minority woman in the workplace.
Another factor is tokenism, in which the person feels more closely scrutinized or more harshly judged because they are "the only one" in the organization.
Study: Innate gender gap in math is a myth
Black Girls Code aims to show girls who are used to being consumers of technology – on computers, tablets, mobile phones, iPods and gaming consoles – that they can have a role in creating it. But first, Bryant had to get some of them to throw out the outdated, stereotypical image of a computer programmer – a white, geeky man sitting alone, punching numbers into a keyboard in front of a dimly lit computer screen.
"That doesn't resonate with most girls, especially elementary and middle school girls," Bryant said. "We do a lot of group work and pairs programming projects because they need that connection and collaboration. So that helps break down the stereotypes of always being alone."
Filed under: Black History, Business, Causes, Economy, Education, History, News, Photographs, Race, Videos, Women's Causes Tagged: | Black Girls Code, Kimberly Bryant, Latino, Person of color, Race and ethnicity in the United States Census, Silicon Valley, STEM fields, Vanderbilt University